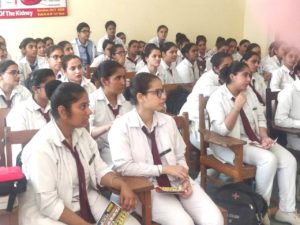 Mannat Nursing Academy – Chandigarh. Aware the Punjab Nursing College Students Related Govt. Jobs
1.Director Dr. Sanjeev Kumar aware the students for PGIMER / AIIMS / BFUHS /STATE GOVT. / RRB Staff Nurse other Entrance exams.
2. Miss. Kajal Arora delivered the best motivational speech to the student for their Brighten Future in govt. sector and she also told to the student how she can achieve their goals.
3. Col. Amarjeet Pal Singh Bawa aware the students for Military Nursing Services Entrance Exam date, Eligibility, Selection Procedure and etc.
Academic Chairman Mr. Diljit Singh Baba also motivate the students for their shining future and They told the students " There are a lot of Ways to make your future Bright " Apply For Govt. Job and crack the Entrance Exam.
They told the students how to crack the Entrance Exam in an easy way and Join the Govt. Section.  Mannat Nursing Academy's motive only and only too aware the Indian student to achieve their Goal in a comfortable way. so she can Proudly speak  " Yes I am the Nurse " . 
"Most of the important things in the world have been accomplished by people who have kept on trying when there seemed to be no hope at all." "Nurses dispense comfort, compassion, and caring without even a prescription."
A Tradition of Excellence in Nursing Education
MANNAT NURSING ACADEMY
SCO 112-113 2ND FLOOR
SECTOR 34 A 
CHANDIGARH
☎️ 9592682437